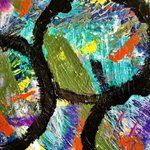 MonicaAndSons
I paint and produce art pieces therapeutically to bring inspiration from within and to explore the passion and joy that art gives me.
At this time, I use acrylics on paper or canvas, using my hands or found objects, such as jar-lids or cardboard edges, to apply the paint. I like to make chaotic color and then add a dark circle, to anchor and complete the piece as a symbol of finding calm and making sense of the chaos.
Art by Monica Davis Altona For me, my art is the representation of the complexities of my life --- it all can be a bit much sometimes -- and art completes me. I look forward to sharing my art pieces with others.
I live in the Pacific Northwest, am middle-aged and passionate about art, family, pets, films, books, photography, flowers and art, art, art!
I have no formal training, though I did take an oil/palette knife painting session at a senior center when I was 8 years old... my parents thought it would get me out of my shy-shell. What it did was give me a spark to make art.
Art by Monica Davis Altona I also took an art therapy class in my twenty's that helped my creative flow. I enjoyed my therapist's attitude about no rules, no judgement... it was very conducive for just being free with form and color.
In the past, I've done a lot of outsider art and naive art. My "comfort" paintings usually are abstract vases and florals.
My favorite painting of mine belongs to my mother and is a painting I did of Lillie's in water, a memory of a great trip I took with my sister to Europe.
I just can't pick any form of art or painter of the past or present that is my favorite, I love it all. I dream of art, seeing myself painting and I see works complete. I have a lifetime of painting inside and I look forward to putting them on canvas.
Read more
MonicaAndSons's Store
Filter