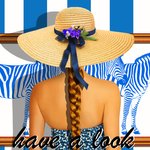 Monika Juengling
Mystical, romantic, nostalgic, retro, maritime, adventurous, imaginative and sometimes a little strange, but especially always fabulously beautiful, that is the digital world (illustrations) of 'Mausopardia' alias Monika Juengling. I like the manipulation and painting with Photoshop Elements 7.0. Everything is based on my own photos, paintings and textures. All my pinup girls, women and men are also own painting. Thank you for stopping by! Please also visit my FineArtPrint Stores in Germany: https://www.artflakes.com/de/shop/mausopardia or www.Mausopardia.fineartprint.de Monika Juengling joined Society6 on January 13, 2014
More
Mystical, romantic, nostalgic, retro, maritime, adventurous, imaginative and sometimes a little strange, but especially always fabulously beautiful, that is the digital world (illustrations) of 'Mausopardia' alias Monika Juengling. I like the manipulation and painting with Photoshop Elements 7.0. Everything is based on my own photos, paintings and textures. All my pinup girls, women and men are also own painting. Thank you for stopping by! Please also visit my FineArtPrint Stores in Germany:
https://www.artflakes.com/de/shop/mausopardia or www.Mausopardia.fineartprint.de
Monika Juengling joined Society6 on January 13, 2014.
Prints by Monika Juengling
275 results
Filter