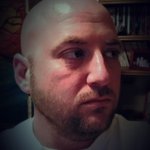 M Oliveira
About M Oliveira 'Every child is an artist. The problem is how to remain an artist once we grow up.' - Pablo Picasso Oli creates art to feel free, and has created art in some form for as long as he can remember. It is his happy place, and when he was young he discovered he could create whatever world he wanted. All of his fears, dreams, and fantasies could come alive with the flick of a pencil or the drag of a brush. Oli's favorite tools are pencils, and oil paints. He begins each piece through self exploration. He looks at his current environment, and the emotions he receives. For example if he's upset by something, he may attempt to create imagery that will represent those feelings. If he's attracted to some interesting imagery, his hope is that viewer will find enjoyment in it as well. Oli wants to allow himself to really dig deep into his psyche, and create a view of the world as he see's it. Oli's work is a representation of his thoughts, dreams, and fears. He like to create images of things that intrigue him, but he also make an attempt at some form of therapy in order to explore deep seeded issues and emotions. He wants the viewer to feel drawn in by the subject matter, and hopefully get some personal clarity through experiencing a particular piece. He wants the viewer to be emotionally affected. M Oliveira joined Society6 on December 6, 2015
More
About M Oliveira
'Every child is an artist. The problem is how to remain an artist once we grow up.' - Pablo Picasso
Oli creates art to feel free, and has created art in some form for as long as he can remember. It is his happy place, and when he was young he discovered he could create whatever world he wanted. All of his fears, dreams, and fantasies could come alive with the flick of a pencil or the drag of a brush.
Oli's favorite tools are pencils, and oil paints. He begins each piece through self exploration. He looks at his current environment, and the emotions he receives. For example if he's upset by something, he may attempt to create imagery that will represent those feelings. If he's attracted to some interesting imagery, his hope is that viewer will find enjoyment in it as well. Oli wants to allow himself to really dig deep into his psyche, and create a view of the world as he see's it.
Oli's work is a representation of his thoughts, dreams, and fears. He like to create images of things that intrigue him, but he also make an attempt at some form of therapy in order to explore deep seeded issues and emotions. He wants the viewer to feel drawn in by the subject matter, and hopefully get some personal clarity through experiencing a particular piece. He wants the viewer to be emotionally affected.
M Oliveira joined Society6 on December 6, 2015.