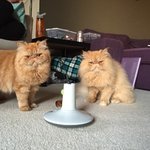 Nicki
Nicki Hallenbeck is an abstract artist and Art Therapist. She works with children and adolescents in Special Education and children in foster care. She makes art as self-care to process her work as a therapist. Nicki goes by the name "Moo's Mom" on the internet, because her cats, Moo and Cake have a popular account on instagram (@moofabulousss). She hopes to make some products featuring her cats soon! Any profits from sales will go toward art supplies for Nicki's clients! Nicki joined Society6 on June 7, 2015
More
Nicki Hallenbeck is an abstract artist and Art Therapist. She works with children and adolescents in Special Education and children in foster care. She makes art as self-care to process her work as a therapist.
Nicki goes by the name "Moo's Mom" on the internet, because her cats, Moo and Cake have a popular account on instagram (@moofabulousss). She hopes to make some products featuring her cats soon!
Any profits from sales will go toward art supplies for Nicki's clients!
Nicki joined Society6 on June 7, 2015.