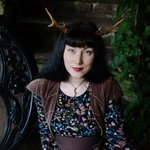 Mooredge in the Mist
Photography by Bryony Whistlecraft.
Wanderer of wuthering moors and woodlands wild. My home and heart lies in Yorkshire and my work aims to evoke the folklore, landscape and heritage from which I draw endless inspiration. Mooredge in the Mist is my ode to the stories that this land has to tell. Whispers from old stones, bones, beck and beyond...
http://www.mooredgeinthemist.com/ http://instagram.com/mooredgeinthemist http://twitter.com/mooredgemists https://500px.com/mooredgeinthemist
Read more