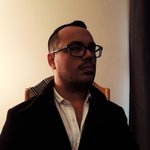 Alejandro Morales Loaiza
Alejandro Morales Loaiza* is a Web Designer in Quebec, Canada who loves hard work, fast delivery and great finishes. His great passion for technology, arts, and communications has taken him out of his professional origins to establish a career in Design, Informatics, and QA. Many of his colleagues and former employers would recognize in him a great capacity of leadership and negotiation, both virtues which, combined with his communication skills, make him a great trustworthy human asset to any team, in any project. __________________ *Proud alumnus of Collège Salette. (IPA: /ale̞ˈxãndro̞/). Alejandro Morales Loaiza joined Society6 on January 27, 2015
More
Alejandro Morales Loaiza* is a Web Designer in Quebec, Canada who loves hard work, fast delivery and great finishes.
His great passion for technology, arts, and communications has taken him out of his professional origins to establish a career in Design, Informatics, and QA.
Many of his colleagues and former employers would recognize in him a great capacity of leadership and negotiation, both virtues which, combined with his communication skills, make him a great trustworthy human asset to any team, in any project.
---
*Proud alumnus of Collège Salette. (IPA: /ale̞ˈxãndro̞/).
Alejandro Morales Loaiza joined Society6 on January 27, 2015.