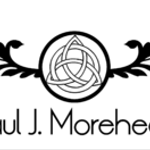 Paul Morehead
Paul J Morehead is a an artist who grew up in Iowa, on a diet of comics, animation, and yoga. After 5 years working as an animator, illustrator and art teacher Paul is ready to bring his latest project to you! His life is all about making art that has meaning. Your support gives us the freedom to buy the materials to produce work with this meaning. Help us bring more of this meaning to the world! Thanks for continuing to inspire us! The Morehead Media Team Paul Morehead joined Society6 on September 20, 2014
More
Paul J Morehead is a an artist who grew up in Iowa, on a diet of comics, animation, and yoga.
After 5 years working as an animator, illustrator and art teacher Paul is ready to bring his latest project to you! His life is all about making art that has meaning.
Your support gives us the freedom to buy the materials to produce work with this meaning.
Help us bring more of this meaning to the world! Thanks for continuing to inspire us! The Morehead Media Team
Paul Morehead joined Society6 on September 20, 2014.