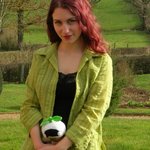 Morgane Grosdidier de Matons
I am a digital and also a traditional artist (espacially watercolours). I am a big fan of the Buffyverse, Game of Thrones, Evangelion and Final Fantasy... And a lot of other things ! My website : www.morganegrosdidier.com My blog : blog.enfants-avalon.com Morgane Grosdidier de Matons joined Society6 on September 4, 2013
More
I am a digital and also a traditional artist (espacially watercolours).
I am a big fan of the Buffyverse, Game of Thrones, Evangelion and Final Fantasy... And a lot of other things !
My website : www.morganegrosdidier.com
My blog : blog.enfants-avalon.com
Morgane Grosdidier de Matons joined Society6 on September 4, 2013.