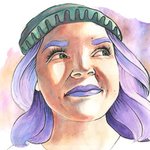 Morgan Goodrum
Morgan Goodrum was born in Charlotte, North Carolina in 1994. She works predominantly in watercolor, but works in other media as well. She is in the process of completing her BFA in Illustration at UNC Charlotte and is on track for graduating in Winter of 2016. Morgan creates paintings of nature, and the creatures that inhabit it, incorporating bright and vivid colors to portray a unique sense of beauty in everything. Website / emorgangoodrum.com Twitter / @EMorgan_Goodrum Instagram / emorgan_goodrum Facebook / Art by Morgan Morgan Goodrum joined Society6 on August 18, 2016
More
Morgan Goodrum was born in Charlotte, North Carolina in 1994. She works predominantly in watercolor, but works in other media as well. She is in the process of completing her BFA in Illustration at UNC Charlotte and is on track for graduating in Winter of 2016. Morgan creates paintings of nature, and the creatures that inhabit it, incorporating bright and vivid colors to portray a unique sense of beauty in everything.
Website / emorgangoodrum.com Twitter / @EMorgan_Goodrum Instagram / emorgan_goodrum Facebook / Art by Morgan
Morgan Goodrum joined Society6 on August 18, 2016.