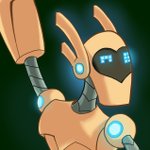 Mosobot64
Hey everyone! I'm a Vancouver based animation student, and I love drawing cartoons and telling stories!
My webcomic, Ohmworld, is at Ohmworld.ca, and I'll be very thankful even if you just read it and tell your friends. If you want to get behind the scenes of my work, I also have a Patreon at https://www.patreon.com/Mosobot64.
Read more
You are currently on society6.com.