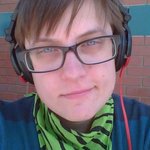 MountainBurd Studios
Punk Rocker, Archaeologist, Art Store Robin, Redwaller, Browncoat, Whovian, Sherlockian, late convert to the awesome that is Neil Gaiman, photographer of people, drawer of things, painter of whatever takes my fancy, burner of wood, voracious reader, (sometimes) writer, Ren Fester, Pub frequenter and Hot Sauce enthusiast. Also, I have a thing for plastic dinosaurs. and tigers I have done all different types of photos, from anime/renaissance cosplay to animals, headshots and everything in between. I shoot with a Nikon D-40. four lenses. 18-55mm Nikkor lens, 10-24mm Tamron SP wide-angle, 55-200mm VR zoom and a Tamron 30-700mm A005 zoom. my recent foray into different mediums came from one unusually strange urge to paint. there I was, at work, and my brain decided that I really needed to paint and wouldn't let up until I'd collected some canvases, some paint and a few cheap brushes. a year later, my skill has grown and I'm now confident in myself as a painter – and loving every minute of it. wood burning has always been something I was interested in, but never really had the chance to get into. one day, I took the plunge and bought a wood burning kit and some panels. now, it's a passion and I can't stop! MountainBurd Studios joined Society6 on June 14, 2015
More
Punk Rocker, Archaeologist, Art Store Robin, Redwaller, Browncoat, Whovian, Sherlockian, late convert to the awesome that is Neil Gaiman, photographer of people, drawer of things, painter of whatever takes my fancy, burner of wood, voracious reader, (sometimes) writer, Ren Fester, Pub frequenter and Hot Sauce enthusiast. Also, I have a thing for plastic dinosaurs. and tigers
I have done all different types of photos, from anime/renaissance cosplay to animals, headshots and everything in between.
I shoot with a Nikon D-40. four lenses. 18-55mm Nikkor lens, 10-24mm Tamron SP wide-angle, 55-200mm VR zoom and a Tamron 30-700mm A005 zoom.
my recent foray into different mediums came from one unusually strange urge to paint. there I was, at work, and my brain decided that I really needed to paint and wouldn't let up until I'd collected some canvases, some paint and a few cheap brushes. a year later, my skill has grown and I'm now confident in myself as a painter – and loving every minute of it.
wood burning has always been something I was interested in, but never really had the chance to get into. one day, I took the plunge and bought a wood burning kit and some panels. now, it's a passion and I can't stop!
MountainBurd Studios joined Society6 on June 14, 2015.