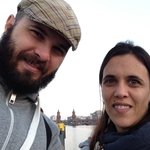 M.Ramos
Graduated in Fine Arts by Universidade Belas Artes in Sao Paulo, Brazil, with High Graduation in Impressionist Divisionism, develops pieces in Pointillism / Stippling since 2000. His works range from Editorial and Scientific illustration in order to Particular Paints and Sculptures to 3D Animation and Taxidermy. He currently resides in Erlangen – Germany – where he works in his studio and divides his time between the clipboard and art classes. His Original pieces include private collections of artists and collectors of Brazil, USA and Europe. http://www.pontilhismo.com.br M.Ramos joined Society6 on November 16, 2012
More
Graduated in Fine Arts by Universidade Belas Artes in Sao Paulo, Brazil, with High Graduation in Impressionist Divisionism, develops pieces in Pointillism / Stippling since 2000.
His works range from Editorial and Scientific illustration in order to Particular Paints and Sculptures to 3D Animation and Taxidermy.
He currently resides in Erlangen – Germany – where he works in his studio and divides his time between the clipboard and art classes.
His Original pieces include private collections of artists and collectors of Brazil, USA and Europe.
http://www.pontilhismo.com.br
M.Ramos joined Society6 on November 16, 2012.