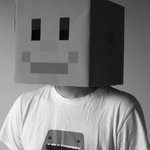 mrbiscuit
Illustrator, doodler, biscuit & tea lover (though I've branched out into coffee and Yannoh these days). Smiles make the world go round, I like contributing to keeping it spinning. Fell in love with character design while studying animation in the United Kingdom. My alter ego spent a number of years working in layout and web design before going freelance and focusing on my illustration. I try to illustrate through the eyes of my inner child, throwing away the toy, and playing with the box. You can checkout and follow my work, and what I am getting up to at the following places. Portfolio http://mrbiscuit.com Blog http://blog.mrbiscuit.com/tagged/mrbiscuit Twitter https://twitter.com/mrbiscuit Facebook page http://www.facebook.com/pages/mrbiscuit/128160121964 mrbiscuit joined Society6 on February 2, 2012
More
Illustrator, doodler, biscuit & tea lover (though I've branched out into coffee and Yannoh these days). Smiles make the world go round, I like contributing to keeping it spinning. Fell in love with character design while studying animation in the United Kingdom. My alter ego spent a number of years working in layout and web design before going freelance and focusing on my illustration. I try to illustrate through the eyes of my inner child, throwing away the toy, and playing with the box. You can checkout and follow my work, and what I am getting up to at the following places.
Portfolio http://mrbiscuit.com
Blog http://blog.mrbiscuit.com/tagged/mrbiscuit
Twitter https://twitter.com/mrbiscuit
Facebook page http://www.facebook.com/pages/mrbiscuit/128160121964
mrbiscuit joined Society6 on February 2, 2012.