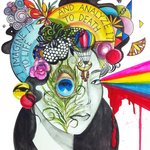 Mreeuh
Mreeuh illustrates in a wide variety of styles, often characterized by bold intricate lettering, geometric patterns, animal totems, religious symbols, mythological archetypes, goddess forms, the cosmos and plant life. She explores ancient civilizations in a modern, ethereal context that combines animal, architecture and earth to create exotic and surreal visions that provoke the human imagination.
Inspired by the potential of human anatomy and the supernatural phenomena of the subconscious mind, her paintings are composed as visual portals that evoke feelings of abundance, bliss and wonder. Her work is heavily influenced by western esoterica + eastern philosophy.
The landscapes in her work feature geometric patterns and layers that reveal a deep psychological rhythm that explores the chaos of intimacy and inner tensions of modern society. Chang's paintings aim to depict the splendor and perseverance of the natural world, evoking a sense of earthly harmony in all living things.
Read more