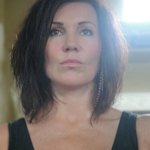 Five Nyne Design
Michelee Scott is a Bainbridge Island photographer for whom the thought of a world without wine and dogs is too terrible to contemplate. website: http://www.mscott-photography.com instagram: http://www.instagram.com/mscott_photo facebook: http://www.facebook.com/mscottphotography Own a print by Michelee Scott? I want to see where you call home! Use hashtag #mscottphotography and share a picture of it in your home or office! Five Nyne Design joined Society6 on September 5, 2013
More
Michelee Scott is a Bainbridge Island photographer for whom the thought of a world without wine and dogs is too terrible to contemplate.
website: http://www.mscott-photography.com instagram: http://www.instagram.com/mscott_photo facebook: http://www.facebook.com/mscottphotography
Own a print by Michelee Scott? I want to see where you call home! Use hashtag #mscottphotography and share a picture of it in your home or office!
Five Nyne Design joined Society6 on September 5, 2013.