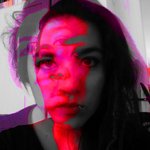 MsNeverstop
Elizabeth Torres, Bogotá, Colombia, 1987. Poet, and multi-media artist. Director of Red Door Magazine and responsible for the experimental poetry of Eyelids Burn. Recipient of the National Poetry Award "Best book of poetry of the year" by the Colombian Book Chamber. Winner of the Spirits in the Words poetry contest by Daimler Chrysler. Poet in Residence at Kean University where she studied Media & Film. Author of 16 published works, and currently working on two new poetry selections "To enter and exit through the memory of the living" and "Bodies of Water". Her latest book, "Street Light Visions" was published by Honda Nomada in Mexico in February of 2012. Previous to this, "Edad de Sol" was presented in New York and Mexico during the fall of 2011. Her book "Anatomía de la Arcilla Incoherente" was published in 2010 in NY. MsNeverstop joined Society6 on May 9, 2015
More
Elizabeth Torres, Bogotá, Colombia, 1987. Poet, and multi-media artist. Director of Red Door Magazine and responsible for the experimental poetry of Eyelids Burn.
Recipient of the National Poetry Award "Best book of poetry of the year" by the Colombian Book Chamber. Winner of the Spirits in the Words poetry contest by Daimler Chrysler. Poet in Residence at Kean University where she studied Media & Film. Author of 16 published works, and currently working on two new poetry selections "To enter and exit through the memory of the living" and "Bodies of Water".
Her latest book, "Street Light Visions" was published by Honda Nomada in Mexico in February of 2012. Previous to this, "Edad de Sol" was presented in New York and Mexico during the fall of 2011.
Her book "Anatomía de la Arcilla Incoherente" was published in 2010 in NY.
MsNeverstop joined Society6 on May 9, 2015.
MsNeverstop's Store
3 results
Filter