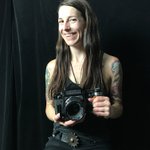 M Somerville Photography
Hi! My name is Madison and I'm a feminist analog photographer. These photographs are part of a larger series titled, No Less Than I Am, through which I seek to challenge traditional representations of what it means to be feminine or female. The media so often either objectifies women or shows them as weak, delicate or needing help from a man. This is blatantly one-sided and detrimental to all who identify as female. I gather objects that have meaning to myself or to women who I am close to and photograph them on color film in the studio. I have chosen to capture these symbols in a color palette and lighting style that references the female nude often portrayed in Renaissance oil paintings. My goal is to show the beauty and strength in the feminine and to empower all people to fight for equality. For more info or to purchase prints, visit my website at: www.msomervillephotography.com Follow me on IG: @msomervillephotography M Somerville Photography joined Society6 on August 29, 2018
More
Hi! My name is Madison and I'm a feminist analog photographer.
These photographs are part of a larger series titled, No Less Than I Am, through which I seek to challenge traditional representations of what it means to be feminine or female. The media so often either objectifies women or shows them as weak, delicate or needing help from a man. This is blatantly one-sided and detrimental to all who identify as female.
I gather objects that have meaning to myself or to women who I am close to and photograph them on color film in the studio. I have chosen to capture these symbols in a color palette and lighting style that references the female nude often portrayed in Renaissance oil paintings. My goal is to show the beauty and strength in the feminine and to empower all people to fight for equality.
For more info or to purchase prints, visit my website at: www.msomervillephotography.com
Follow me on IG: @msomervillephotography
M Somerville Photography joined Society6 on August 29, 2018.
M Somerville Photography's Store
28 results
Filter