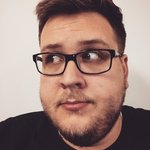 Mitch Henson
Hi, I'm Mitch. I'm a graphic designer who has worked for a newspaper, an online magazine and an advertising agency. In my downtime I enjoy reading Batman comics, listening to hip-hop & doodling. You can keep up with me on Instagram, Twitter or Tumblr - @mtchhnsn You can see more of my work at https://www.behance.net/mtchhnsn Mitch Henson joined Society6 on May 21, 2014
More
Hi, I'm Mitch. I'm a graphic designer who has worked for a newspaper, an online magazine and an advertising agency. In my downtime I enjoy reading Batman comics, listening to hip-hop & doodling.
You can keep up with me on Instagram, Twitter or Tumblr - @mtchhnsn
You can see more of my work at https://www.behance.net/mtchhnsn
Mitch Henson joined Society6 on May 21, 2014.