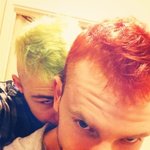 Mtt Creative
Welcome to my creative corner of this community. Hope you like what I have to offer :) Melbourne based struggling artist, I've studied visual arts and illustration. Exhibited in multiple exhibitions over the years and won prizes and well travelled. I would say my work is more illustrative and experimental. I'm constantly trying new styles. My strengths would be with painting. http://ichabod1799.deviantart.com http://ichabod1799.tumblr.com Mtt Creative joined Society6 on January 11, 2015
More
Welcome to my creative corner of this community. Hope you like what I have to offer :)
Melbourne based struggling artist, I've studied visual arts and illustration. Exhibited in multiple exhibitions over the years and won prizes and well travelled. I would say my work is more illustrative and experimental. I'm constantly trying new styles. My strengths would be with painting.
http://ichabod1799.deviantart.com http://ichabod1799.tumblr.com
Mtt Creative joined Society6 on January 11, 2015.