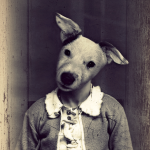 Muriel McDonald
I have a great respect for nature and the animal kingdom. In my shop I create thought-provoking anthropomorphic art prints. Although all my creations are whimsical, I also have the slightest hope that people will realize respect and empathy for all living beings is a lofty goal. My prints can be found in homes in the United Kingdom, Norway, Canada, Germany, Austria, Belgium, The Netherlands, France, New Zealand, Turkey, Australia and the Faroe Islands, as well as the United States. Knowing others around the globe are enjoying my whimsical creatures is a true joy for me. I'm married with a slew of four-legged children whom I consider to be the most perfect souls on earth. I consider myself an outsider artist. I'm self-taught and live in a rural area with only nature and quiet as my artistic allies. All of my prints are created in my own little house in the country. The total number of employees in my shop is one (myself). I do have a support staff of feline and canine critters who offer no help whatsoever except for being pure, honest and adorable. I hope you enjoy this little world I've created. It's a very lovely place to be. Muriel McDonald joined Society6 on April 26, 2015
More
I have a great respect for nature and the animal kingdom. In my shop I create thought-provoking anthropomorphic art prints. Although all my creations are whimsical, I also have the slightest hope that people will realize respect and empathy for all living beings is a lofty goal.
My prints can be found in homes in the United Kingdom, Norway, Canada, Germany, Austria, Belgium, The Netherlands, France, New Zealand, Turkey, Australia and the Faroe Islands, as well as the United States. Knowing others around the globe are enjoying my whimsical creatures is a true joy for me.
I'm married with a slew of four-legged children whom I consider to be the most perfect souls on earth. I consider myself an outsider artist. I'm self-taught and live in a rural area with only nature and quiet as my artistic allies. All of my prints are created in my own little house in the country. The total number of employees in my shop is one (myself). I do have a support staff of feline and canine critters who offer no help whatsoever except for being pure, honest and adorable.
I hope you enjoy this little world I've created. It's a very lovely place to be.
Muriel McDonald joined Society6 on April 26, 2015.
Muriel McDonald's Store
40 results
Filter