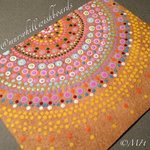 mursyhill
Mursy Hill Studio Wishboard Mandala Handpainted Meditative Dotillism Art www.mursyhill.com The artist is Megan McLeod-Hanie. She was born and raised in the south and grew up with many artistic influences. As graduate of Louisiana State University in Baton Rouge, Louisiana with a Bachelor of Fine Arts from the College of Art and Design she went on to obtain her Master of Education in Media from the University of West Georgia. Megan now lives in Sharpsburg, Georgia with her husband and three children. Her inspiration developed from meditation exercises that lead to experimentation in meditative art. Hours are spent with every painting, with layers of paint. One can feel the texture in the paintings. mursyhill joined Society6 on February 27, 2016
More
Mursy Hill Studio Wishboard Mandala Handpainted Meditative Dotillism Art
www.mursyhill.com
The artist is Megan McLeod-Hanie. She was born and raised in the south and grew up with many artistic influences. As graduate of Louisiana State University in Baton Rouge, Louisiana with a Bachelor of Fine Arts from the College of Art and Design she went on to obtain her Master of Education in Media from the University of West Georgia. Megan now lives in Sharpsburg, Georgia with her husband and three children.
Her inspiration developed from meditation exercises that lead to experimentation in meditative art.
Hours are spent with every painting, with layers of paint. One can feel the texture in the paintings.
mursyhill joined Society6 on February 27, 2016.