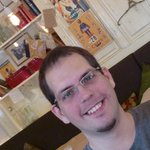 Peter Foti
murumuru is a digital painting project from Peter Cs. Foti who is known for his colorful square abstracts. murumuru is really about shapes and colors which bring so much fun into your life. murumuru is love and happiness. murumuru let your inner child cheer up for now and forever! *** >>All digital paintings are the property of Peter Foti. All rights reserved. *For more works please join my facebook site @ http://www.facebook.com/murumuru.hu *For limited edition numbered and signed handmade prints, please visit: http://murumuruArt.etsy.com *Follow me on twitter as well @http://twitter.com/MurumuruArt Peter Foti joined Society6 on June 11, 2012
More
murumuru is a digital painting project from Peter Cs. Foti who is known for his colorful square abstracts.
murumuru is really about shapes and colors which bring so much fun into your life. murumuru is love and happiness. murumuru let your inner child cheer up for now and forever!
---
All digital paintings are the property of Peter Foti. All rights reserved.
*For more works please join my facebook site @ http://www.facebook.com/murumuru.hu *For limited edition numbered and signed handmade prints, please visit: http://murumuruArt.etsy.com *Follow me on twitter as well @http://twitter.com/MurumuruArt
Peter Foti joined Society6 on June 11, 2012.