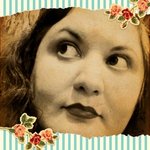 musicgeekstress
musicgeekstress is Christine Hirtescu. I work and live in Toronto, On. I've been practising as a realist painter for several years but recently decided to dabble in illustration to provide an outlet for my imagination. As my handle suggests, I am a musicgeekstress. I listen to a wide variety of genres from different decades. All my illustrations are inspired by songs, often played on a loop until that itch is scratched. My pen just does not flow without it. To see more of my work, please visit my website at www.chirtescu.com musicgeekstress joined Society6 on May 10, 2012
More
musicgeekstress is Christine Hirtescu.
I work and live in Toronto, On. I've been practising as a realist painter for several years but recently decided to dabble in illustration to provide an outlet for my imagination. As my handle suggests, I am a musicgeekstress. I listen to a wide variety of genres from different decades. All my illustrations are inspired by songs, often played on a loop until that itch is scratched. My pen just does not flow without it.
To see more of my work, please visit my website at www.chirtescu.com
musicgeekstress joined Society6 on May 10, 2012.
Bags by musicgeekstress
17 results
Filter