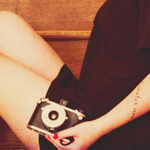 Myan Soffia
My surroundings and my favorite artists inspire me to create little boxes full of light, colors, and imagination. I'm a Los Angeles artist + photographer originally from the east coast and I am crazy about art and absolutely smitten with L.A.. My work can be seen on Lana Del Rey's album Ultraviolence, book covers, in magazines and on television series such as ABC's Modern Family and Showtime's I'm Dying Up Here. Thanks for checking me out! :) www.myansoffia.com Instagram: @myansoffia @MyanSoffiaPhotography http://pinterest.com/myansoffia/ http://www.etsy.com/shop/MyanSoffia http://www.etsy.com/shop/SixthandMain http://www.etsy.com/shop/InkPaperCamera Myan Soffia joined Society6 on November 22, 2011
More
My surroundings and my favorite artists inspire me to create little boxes full of light, colors, and imagination. I'm a Los Angeles artist + photographer originally from the east coast and I am crazy about art and absolutely smitten with L.A.. My work can be seen on Lana Del Rey's album Ultraviolence, book covers, in magazines and on television series such as ABC's Modern Family and Showtime's I'm Dying Up Here.
Thanks for checking me out! :)
www.myansoffia.com Instagram: @myansoffia @MyanSoffiaPhotography http://pinterest.com/myansoffia/ http://www.etsy.com/shop/MyanSoffia http://www.etsy.com/shop/SixthandMain http://www.etsy.com/shop/InkPaperCamera
Myan Soffia joined Society6 on November 22, 2011.