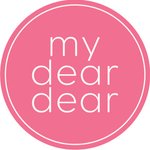 mydeardear
Hello, we are the daydreamers behind MYDEARDEAR: a set of sisters who are currently living on separate countries. We both happen to be designers who have extreme fondness for a certain Time Lord and the High-Functioning Sociopath. You can also visit us on: Etsy: http://www.mydeardear.etsy.com Pinterest: http://www.pinterest.com/mydeardear Twitter: @mydeardearie mydeardear joined Society6 on May 28, 2013
More
Hello, we are the daydreamers behind MYDEARDEAR: a set of sisters who are currently living on separate countries.
We both happen to be designers who have extreme fondness for a certain Time Lord and the High-Functioning Sociopath.
You can also visit us on: Etsy: http://www.mydeardear.etsy.com Pinterest: http://www.pinterest.com/mydeardear Twitter: @mydeardearie
mydeardear joined Society6 on May 28, 2013.
Chibi Iron Man_Phone Skin Prints by mydeardear
15 results
Filter