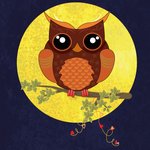 MyimagesArt
Hello! I am a energetic girl, having a lot of hobbies like graphic design, digital ilustration, drawing and recently photography. I'm happiest when i'm creating and i'm learning. So my life revolves around the arts. I prefer to work digitally, using the vector medium to create images. All my pics are created with love and attention. Thanks for watching and a very best for you! Please Notice! MyimagesArt and all images on this site and on my other sites (eg imagesArt on Zazzle) are copyright protected. MyimagesArt retains all rights to all the images shown. Any type of reproduction without permission is prohibited. Thank you! You can see my work here in Society6 and also on the following site: http://www.zazzle.com/imagesart Follow me please: on Google: http://myimagesart.blogspot.com on Facebook: Coming soon. MyimagesArt joined Society6 on December 6, 2013
More
Hello! I am a energetic girl, having a lot of hobbies like graphic design, digital ilustration, drawing and recently photography. I'm happiest when i'm creating and i'm learning. So my life revolves around the arts. I prefer to work digitally, using the vector medium to create images. All my pics are created with love and attention. Thanks for watching and a very best for you!
Please Notice! MyimagesArt and all images on this site and on my other sites (eg imagesArt on Zazzle) are copyright protected. MyimagesArt retains all rights to all the images shown. Any type of reproduction without permission is prohibited. Thank you!
You can see my work here in Society6 and also on the following site:
http://www.zazzle.com/imagesart
Follow me please:
on Google: http://myimagesart.blogspot.com on Facebook: Coming soon.
MyimagesArt joined Society6 on December 6, 2013.