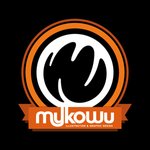 mykowu
MICHAEL IS A HUMBLE GRAPHIC DESIGNER FROM THE ALWAYS SUNNY, SOUTHERN CALIFORNIA I enjoy the sweet crunch of a perfectly ripe watermelon, a no-look pass for a soaring windmill dunk, and discovering beautifully functional design out in the wild. My love began at age 5 when my parents submitted my Teenage Mutant Ninja Turtle drawing to the local newspaper's 'Dandy Doodles' section. They went on to publish my little cartoon and send me a check for $1.00. That's right, $1.00 not $100. It wasn't much, but this was the launch of my artistic endeavors. Fast forward through 10,000+ hours of training and experience to the present day universe and i've refined my talents to help clients, businesses, friends, family, and even man's best friend solve their design problems. mykowu joined Society6 on September 10, 2014
More
MICHAEL IS A HUMBLE GRAPHIC DESIGNER FROM THE ALWAYS SUNNY, SOUTHERN CALIFORNIA
I enjoy the sweet crunch of a perfectly ripe watermelon, a no-look pass for a soaring windmill dunk, and discovering beautifully functional design out in the wild.
My love began at age 5 when my parents submitted my Teenage Mutant Ninja Turtle drawing to the local newspaper's 'Dandy Doodles' section. They went on to publish my little cartoon and send me a check for $1.00. That's right, $1.00 not $100. It wasn't much, but this was the launch of my artistic endeavors.
Fast forward through 10,000+ hours of training and experience to the present day universe and i've refined my talents to help clients, businesses, friends, family, and even man's best friend solve their design problems.
mykowu joined Society6 on September 10, 2014.