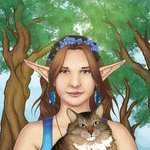 MythicPhoenix
Hey there! The name's Rachel but I'm more widely known in the artist community as MythicPhoenix! I'm a freelance artist whose focus is fantasy art. I would absolutely love to see pictures of received products, so feel free to send me an email! MythicPhoenix joined Society6 on March 11, 2014
More
Hey there! The name's Rachel but I'm more widely known in the artist community as MythicPhoenix! I'm a freelance artist whose focus is fantasy art.
I would absolutely love to see pictures of received products, so feel free to send me an email!
MythicPhoenix joined Society6 on March 11, 2014.