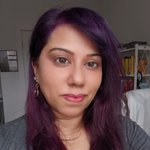 Mythili S in NYC
I pretend like I know what I'm doing pretty well. Maybe. Paper collages in NYC, too.
I'm a journalist and writer based in New York who began my journey into making art and keeping an art journal during the initial months of the pandemic. All of my pieces are made with various types of paper, magazines, junk mail, and the occasional selected and printed images. I hope in sharing some of them the world becomes a more interesting, good, fun, intriguing place.
If you have any questions about products or are interested in commissioning a piece, please feel free to contact mskcollages@gmail.com. Please also send your pictures of what you've done with any purchased prints or products, it would be wonderful to see.
Read more
Mythili S in NYC's Store
Filter