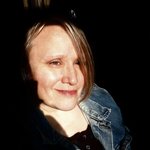 Art by Mel
Hi! This is my original artwork and photography. I'm a self-taught artist with a passion for all things unique. My drawings and paintings reflect that. I live with chronic pain and my creativity is a huge outlet for me. Most of my photography would be considered 'normal or 'standard subject', but I may just surprise you all some day. :D Thanks for stopping by! All artwork is property of Mel Bohrer, copyright ©2013, 2014 any use of this work, unless accompanied by written permission from the artist constitutes fraud. Copyright fraud is a crime, punishable by law. I had another profile on this site, MZart, art by Mel. You may find more of my work at melzzart.wordpress.com and on https://www.facebook.com/pages/Just-Another-Crazy-Creative/242247195801998 I also have a new profile on society6! http://society6.com/melmoongazer My Redbubble account: http://www.redbubble.com/people/mzzart Art by Mel joined Society6 on October 8, 2013
More
Hi! This is my original artwork and photography. I'm a self-taught artist with a passion for all things unique. My drawings and paintings reflect that. I live with chronic pain and my creativity is a huge outlet for me. Most of my photography would be considered 'normal or 'standard subject', but I may just surprise you all some day. :D Thanks for stopping by!
All artwork is property of Mel Bohrer, copyright ©2013, 2014 any use of this work, unless accompanied by written permission from the artist constitutes fraud. Copyright fraud is a crime, punishable by law. I had another profile on this site, MZart, art by Mel. You may find more of my work at melzzart.wordpress.com and on https://www.facebook.com/pages/Just-Another-Crazy-Creative/242247195801998 I also have a new profile on society6! http://society6.com/melmoongazer My Redbubble account: http://www.redbubble.com/people/mzzart
Art by Mel joined Society6 on October 8, 2013.