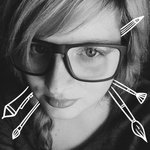 mZwonko
Visual craft is dedicated to the enjoyment with the cute and funky little things, to the moment of nostalgia and love for the most beautiful moments of our lives. To make the world better, brighter and colorful is the ultimate goal. The main focus of my work is pattern design and vector illustration combined with the passion to the experiments in different design fields. With love, Maria Zvonkova mZwonko joined Society6 on March 29, 2013
More
Visual craft is dedicated to the enjoyment with the cute and funky little things, to the moment of nostalgia and love for the most beautiful moments of our lives. To make the world better, brighter and colorful is the ultimate goal. The main focus of my work is pattern design and vector illustration combined with the passion to the experiments in different design fields.
With love, Maria Zvonkova
mZwonko joined Society6 on March 29, 2013.