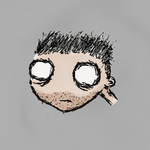 N140
Sometimes I get the urge to draw some odd things. Then I do computer things to them. Those things end up here. If you like them, peruse at your leisure and share if you so choose. Thanks! You can also check out my website @ http://n140.me N140 joined Society6 on August 30, 2014
More
Sometimes I get the urge to draw some odd things. Then I do computer things to them. Those things end up here. If you like them, peruse at your leisure and share if you so choose. Thanks!
You can also check out my website @ http://n140.me
N140 joined Society6 on August 30, 2014.