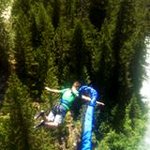 Nabes
Im a graffiti artist who turned to digital media for fun and a new challenge. I love to challenge my brain in all ways, I love to create and I love to help people. Also seeing a piece of mine on a train, wall, or even just a canvass is a unique experience, i guess it just boosts the ego you know. I love to paint, to get my creative juices flowing and to improve my skills. Im pretty low key old skool kinda cat, i dont promote myself, I tend to let my work speak for itself. That gets me to push me beyond my creative boundaries. my website is www.art4animals.wordpress.com old stuff, new stuff and fun stuff, check it out and lemme know what you think. I can do custom jobs as well, new ideas are popping in my head all the time. Just wait new stuff is coming once I digitize it! Nabes joined Society6 on May 25, 2010
More
Im a graffiti artist who turned to digital media for fun and a new challenge. I love to challenge my brain in all ways, I love to create and I love to help people. Also seeing a piece of mine on a train, wall, or even just a canvass is a unique experience, i guess it just boosts the ego you know. I love to paint, to get my creative juices flowing and to improve my skills. Im pretty low key old skool kinda cat, i dont promote myself, I tend to let my work speak for itself. That gets me to push me beyond my creative boundaries.
my website is www.art4animals.wordpress.com old stuff, new stuff and fun stuff, check it out and lemme know what you think. I can do custom jobs as well, new ideas are popping in my head all the time. Just wait new stuff is coming once I digitize it!
Nabes joined Society6 on May 25, 2010.