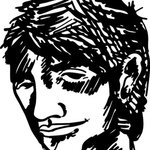 Nacho Gonzalez
Im a big nerd in a number of ways. I am a physicist currently studying his PhD in Dresden (I come from Mexico by the way). I love science and reason probably over all things.
I love visual art in practically all of its forms, but I must confess that traditional paintings or drawings can deeply impress me and make me drool.
I love music and I cannot stop lammenting my lack of any musical talent... anyway, that doesnt stop me from playing the rockstar in my Guitar Hero... oh god, how I would love to be a drummer!
I love books, even though I am not the classical novel kind of guy, I am more into scientific-political-sociology-science fiction- stuff. Some of my favourite authors would be Ben Elton, Bill Bryson, Orson Wells, Richard Dawkins, Richard Feynmann, Noam Chomsky...
I love tacos al pastor, they can make me literally drool!
And yes, I love to spend my free time (that it seems annoyingly few!) scribbling on my sketchbook and/or digitalizing my scribbles! after all, thats what brought me here!
Read more
Nacho Gonzalez's Store
Filter