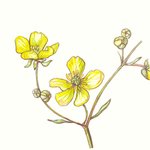 NadiaCorfini
Hey! I'm Nadia, I love experimenting with watercolor, gouache and pencils and I mostly find my inspiration in the beautiful little things nature gifts us with every day! When I'm not drawing you will probably find me either watching TV series, petting my cat, dreaming of living somewhere in the Scottish highlands. Or just snacking on something. You can also follow me on: https://www.instagram.com/nadianed/ http://nadianed.tumblr.com/ NadiaCorfini joined Society6 on October 29, 2016
More
Hey! I'm Nadia, I love experimenting with watercolor, gouache and pencils and I mostly find my inspiration in the beautiful little things nature gifts us with every day!
When I'm not drawing you will probably find me either watching TV series, petting my cat, dreaming of living somewhere in the Scottish highlands. Or just snacking on something.
You can also follow me on:
https://www.instagram.com/nadianed/
http://nadianed.tumblr.com/
NadiaCorfini joined Society6 on October 29, 2016.