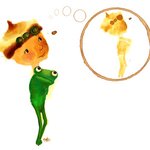 Nadia Engelhard
Hi, my name is Nadia Engelhard. I mostly live amongst the clouds and the moon, but sometimes I return to earth to put my hands to work. View more of my work at: Web: www.nadiaengelhard.com Youtube: https://www.youtube.com/user/naidandia Facebook: https://www.facebook.com/nadiaengelhardmotas Thanks for your visit!!! Nadia Engelhard joined Society6 on December 9, 2013
More
Hi, my name is Nadia Engelhard. I mostly live amongst the clouds and the moon, but sometimes I return to earth to put my hands to work.
View more of my work at: Web: www.nadiaengelhard.com Youtube: https://www.youtube.com/user/naidandia Facebook: https://www.facebook.com/nadiaengelhardmotas
Thanks for your visit!!!
Nadia Engelhard joined Society6 on December 9, 2013.