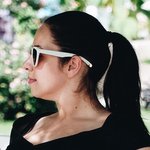 Nadine Batista Santos
Hi, I am Nadine. Drawing and illustrating have been an important part of my entire life. Now I am able to sell my personal projects and also draw illustrations for clients. If you like my illustrations and want to hire me, please contact me. If you want to get updates on my latest works, just follow my Instagram account. http://www.nadinebatista.de/ http://www.instagram.com/nadinebatistasantos/ Nadine Batista Santos joined Society6 on October 4, 2016
More
Hi, I am Nadine. Drawing and illustrating have been an important part of my entire life. Now I am able to sell my personal projects and also draw illustrations for clients. If you like my illustrations and want to hire me, please contact me. If you want to get updates on my latest works, just follow my Instagram account.
http://www.nadinebatista.de/ http://www.instagram.com/nadinebatistasantos/
Nadine Batista Santos joined Society6 on October 4, 2016.
Nadine Batista Santos's Store
11 results
Filter