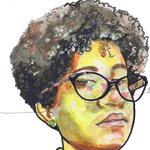 Nadyia Duff
Nadyia Duff is a graduate from the University of Florida where she graduated Cum Laude and received a BA in Art Education. She was born in Kingston, Jamaica and moved to the state of Florida when she was five years old and has lived there since. She appreciates the realism of portraiture as well as the aesthetic of pop art. Popular culture is her inspiration, teaching art is her passion, and art is her life. "In a digitally advanced world the conservation of "traditional" art is very important. I am working to preserve traditional art while embracing the technology of today, and using the influences of media on society in my artwork. I've focused on using acrylic paint and various mixed medias to create paintings that resemble and take on the form of collage. Colors and background imagery are also very important in my artwork; they are usually bright, whimsical, and relate to the subjects personality and create their own boundaries". - Nadyia Duff Nadyia Duff joined Society6 on August 31, 2012
More
Nadyia Duff is a graduate from the University of Florida where she graduated Cum Laude and received a BA in Art Education. She was born in Kingston, Jamaica and moved to the state of Florida when she was five years old and has lived there since. She appreciates the realism of portraiture as well as the aesthetic of pop art. Popular culture is her inspiration, teaching art is her passion, and art is her life.
"In a digitally advanced world the conservation of "traditional" art is very important. I am working to preserve traditional art while embracing the technology of today, and using the influences of media on society in my artwork. I've focused on using acrylic paint and various mixed medias to create paintings that resemble and take on the form of collage. Colors and background imagery are also very important in my artwork; they are usually bright, whimsical, and relate to the subjects personality and create their own boundaries".
Nadyia Duff joined Society6 on August 31, 2012.
Prints by Nadyia Duff
28 results
Filter