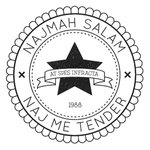 Najmah Salam
I am a 25-year-old designer from Singapore
When I'm not drawing or painting, I sing and play the ukulele... or I'm eating a lot of chips. Wacky times!
I'm not terribly interesting, but I am interested in a lot of things. Say hi! There's a good chance we have a lot in common.
I'm open to doing commissions and can be contacted at najmahsalam@gmail.com.
Of course, you can always see what I'm up to at my blog, http://najmetender.tumblr.com
Read more