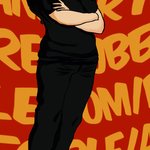 Nana Leonti
Hi there, I'm Nana and I am a geek. Now that that is out of my system here's what you might want to know about me: I'm a sucker for all things Whedon& Art Nouveau. I hate pink but I secretly adore Disney Princesses. I'm a mum of two little boys, work a very boring job in a very boring town and artwork is my escape!
I usually do fanart but I do original art as well, usually trying photorealism and I've only recently started obsessing over tee designing and lineart.
I have created many designs as a part of a collective with my online buddies the RBC. We run collabollection projects all the time with the most successful so far being Droidarmy with over 200 submissions :)
I hope you like what I do! Come visit me over at Facebook http://www.facebook.com/NanaLeonti Twitter: @NanaLARt or Tumblr! http://nanalart.tumblr.com :)
If you have already bought something I designed, thank you so much!
Read more
Nana Leonti's Store
Filter