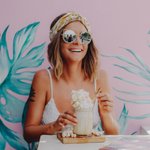 Nancy Chalmers
Born in Australia – land of the Rainbow Serpent, the Dreamtime, rainforests, billabongs and coral reefs – in the rad 80s when Ken Done doona covers, Golden Gaytimes and Kylie Minogue where hot, I grew up to be a gypsy nomad travelling wherever the tropical breeze takes me. After a year in Sri Lanka, I'm currently living in Indonesia. My 'studio' is a little wooden hut by the beach, surrounded by frangipane, banana trees and bird of paradise plants. Oh, and a few active volcanoes.
With a degree in Art History and Archaeology, I'm fascinated by the mythologies of ancient cultures, fairytales and legends, and often lose myself in nostalgic fantasies of the more recent past – the 60s, 70s and 80s.
I'm also a bit of a mystic (AKA I believe in magic) and have learnt how to tap into what I can only describe as a 'sixth sense' or higher 'creative source' through meditation, yoga, divination and other esoteric practices. Call me a witch if you will – but it helps me paint some incredible 'spirit portraits' and shows me the way when I need inspiration.
I'm named after Nancy Drew and Alice in Wonderland – so it makes sense that I'm obsessed with children's books and fantasy worlds. I guess I just have a wild imagination. And I'm perfectly happy to live in it whenever possible.
Read more
Nancy Chalmers's Store
0 results
Filter