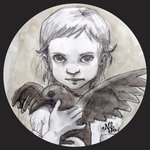 Nannooka Jo
Mostly self tought artist with a few years of academic education through workshops and seminars, i studied interior and industrial design but making most of my living as a professional free lance photographer.
My painting and illustrations subjects are coming from my early childhood memories, the new age movement, or are inspired from dreams and visions, tales and stories, the spiritual and the occult.
Sideways i work also occasionally as a Theta Healing practicioner.
Please feel free to ask for any special commission or portrait you wish me to paint for you, or to ask anything about my prices, my work or whatever you may want to know about it.
Read more
Nannooka Jo's Store
43 results
Filter