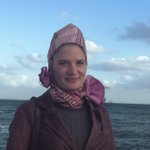 o nadine o
German expressionism is something that goes under my skin, so does Turner, or Gericault, or Caspar David Friedrich. To be honest, I love mind-traveling through different decades to look at the 'greater picture' - what was the artist's focus? What technique was used? And what happened at the time the painter lived? Painting itself is all a great playing field to me, still. I have only started painting seriously in 2012 and still use my head quite a lot, as I'm quite a conceptional thinker. I paint my thoughts. My style definitely needs developing, but I am confident that this will be an automatic progress that comes with new thoughts. And new thoughts come with changes, knowledge and experiences as well as the openness to recognise your own faults - all things I care about greatly. o nadine o joined Society6 on October 16, 2013
More
German expressionism is something that goes under my skin, so does Turner, or Gericault, or Caspar David Friedrich. To be honest, I love mind-traveling through different decades to look at the 'greater picture' - what was the artist's focus? What technique was used? And what happened at the time the painter lived?
Painting itself is all a great playing field to me, still. I have only started painting seriously in 2012 and still use my head quite a lot, as I'm quite a conceptional thinker.
I paint my thoughts. My style definitely needs developing, but I am confident that this will be an automatic progress that comes with new thoughts. And new thoughts come with changes, knowledge and experiences as well as the openness to recognise your own faults - all things I care about greatly.
o nadine o joined Society6 on October 16, 2013.
Carpet Szi_Print Red by o nadine o
1 results
Filter