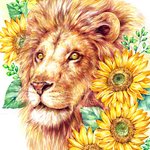 NAO WORKS
I graduated from Musashino art university Department of industrial, interior and craft design. ​ ​ I am an artist / illustrator specialized in drawings and paints of animals using gouache, and animal character illustration in watercolors, and typography. Theme of my works is to "believe", since I always try to "believe" in my own path and the world around me--as everyone is trying to believe in something of his/her own. I will continue to try producing my own works to give hope for the lives of people in the world. http://infonaoworks.wixsite.com/naoworks https://www.behance.net/nao_works https://www.instagram.com/nao_photos/ NAO WORKS joined Society6 on July 25, 2013
More
I graduated from Musashino art university Department of industrial, interior and craft design. ​ ​ I am an artist / illustrator specialized in drawings and paints of animals using gouache, and animal character illustration in watercolors, and typography.
Theme of my works is to "believe", since I always try to "believe" in my own path and the world around me--as everyone is trying to believe in something of his/her own. I will continue to try producing my own works to give hope for the lives of people in the world.
http://infonaoworks.wixsite.com/naoworks https://www.behance.net/nao_works https://www.instagram.com/nao_photos/
NAO WORKS joined Society6 on July 25, 2013.