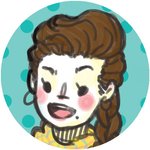 Naomi Maria
Midwest illustrator x visual artist x graphic designer. I like a little bit of everything, so expect lots of flavors! I hope you'll find that special something that matches your personal style in fashion and at home. Follow me online! ♦ make & adventure blog: http://diario.naomi-maria.com ♦ twitter : https://twitter.com/naomimaria ♦ instagram: http://instagram.com/naomari ♦ pinterest: https://www.pinterest.com/naomimaria/ Naomi Maria joined Society6 on November 28, 2014
More
Midwest illustrator x visual artist x graphic designer.
I like a little bit of everything, so expect lots of flavors! I hope you'll find that special something that matches your personal style in fashion and at home.
Follow me online! ♦ make & adventure blog: http://diario.naomi-maria.com ♦ twitter : https://twitter.com/naomimaria ♦ instagram: http://instagram.com/naomari ♦ pinterest: https://www.pinterest.com/naomimaria/
Naomi Maria joined Society6 on November 28, 2014.