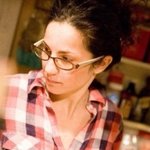 Napata
I am a mixed-media artist. Mostly painting and drawings. I use acrylic paint, markers, pens, polymer resins and many different gel mediums on canvas, paper and plexi-glass panels. I studied art at School of Visual Arts, NYC where I received my Bachelor of Fine Arts Degree in 2000 and immediately started the Masters of Fine Arts program at Yale University. After a divorce a several years later I opened a bar on the Lower East Side, NYC, always painting and drawing sporadically on the side. I have been painting and drawing intermittently for the last 20 years. Going in and out of creative spells. My work is mostly inspired by nature and biology. As a child I was always interested in looking at marine creatures and plant cells. I love the shapes and colors you see in them. Napata joined Society6 on September 10, 2015
More
I am a mixed-media artist. Mostly painting and drawings. I use acrylic paint, markers, pens, polymer resins and many different gel mediums on canvas, paper and plexi-glass panels. I studied art at School of Visual Arts, NYC where I received my Bachelor of Fine Arts Degree in 2000 and immediately started the Masters of Fine Arts program at Yale University. After a divorce a several years later I opened a bar on the Lower East Side, NYC, always painting and drawing sporadically on the side.
I have been painting and drawing intermittently for the last 20 years. Going in and out of creative spells. My work is mostly inspired by nature and biology. As a child I was always interested in looking at marine creatures and plant cells. I love the shapes and colors you see in them.
Napata joined Society6 on September 10, 2015.