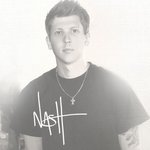 Nash Gottfried
Dan was born and raised in Kitchener, Ontario Canada where he currently resides. Developed over the many years of practice, he is self taught with his artistic applications as an original illustrator, graphic designer, and abstract painter. With credit towards his extremely artistic father, he passed on his talents as an artist and musician where Dan has reaped the benefits of being a natural at his crafts. Dan is a 2011 Design Edge Canada Graphic Design Award Winner and has his artwork hung in multiple establishments among the Kitchener-Waterloo area. He has made local as well as international sales and has been involved in art exhibitions. Dan continues to receive positive and encouraging feedback regarding his work, even by people claiming to dislike abstract ar Nash Gottfried joined Society6 on March 10, 2014
More
Dan was born and raised in Kitchener, Ontario Canada where he currently resides. Developed over the many years of practice, he is self taught with his artistic applications as an original illustrator, graphic designer, and abstract painter. With credit towards his extremely artistic father, he passed on his talents as an artist and musician where Dan has reaped the benefits of being a natural at his crafts.
Dan is a 2011 Design Edge Canada Graphic Design Award Winner and has his artwork hung in multiple establishments among the Kitchener-Waterloo area. He has made local as well as international sales and has been involved in art exhibitions. Dan continues to receive positive and encouraging feedback regarding his work, even by people claiming to dislike abstract ar
Nash Gottfried joined Society6 on March 10, 2014.