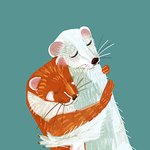 Belette Le Pink
Hi, I´m Belette, little pink mink from Spain. I express myself thru animals beauty.
Love wolves and weasels. "Weasel hugs" is my war cry :)
Committed to the environment since I was a child, you can find gifts in my shop to help wildlife and nature.
Weasel hugs! Belette
Check my Selection Shop with the best sellers by Belette Le pink
https://society6.com/belettelepink
Follow me on your favourite social media :)
https://www.instagram.com/belettelepink https://twitter.com/BeletteLePink https://www.pinterest.es/belettelepink/ https://www.facebook.com/belettelepink/ http://belettelepink.com
Do you like to invite me a coffee? https://ko-fi.com/belettelepink
All images ©2017-2020 All rights reserved. Copying and/or distributing these images without permission is strictly prohibited.
Read more
Tapestries by Belette Le Pink
Filter