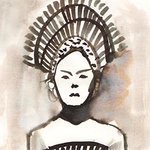 ada natada
hi, i'm an illustrator based in lucern, switzerland. my name is ada natada aka natyada tawonsri. about my works: mostly my illustrations are made with brushes and ink. ** my account is going to be activated in one week, so very soon! befor then i'm very grateful for your patience and your visite! xoxo ** please visit my page for more details: natyadatawonsri.tumblr.com if you have any questions or wishes for your order feel free to leave me a message at: adanatada@gmail.com thank you for your visit, please share and subscribe xoxo all illustrations and pictures shown on this society6-account is courtesy of natyada tawonsri. ada natada joined Society6 on July 9, 2016
More
hi, i'm an illustrator based in lucern, switzerland. my name is ada natada aka natyada tawonsri. about my works: mostly my illustrations are made with brushes and ink.
** my account is going to be activated in one week, so very soon! befor then i'm very grateful for your patience and your visite! xoxo **
please visit my page for more details: natyadatawonsri.tumblr.com
if you have any questions or wishes for your order feel free to leave me a message at: adanatada@gmail.com
thank you for your visit, please share and subscribe xoxo
all illustrations and pictures shown on this society6-account is courtesy of natyada tawonsri.
ada natada joined Society6 on July 9, 2016.
ada natada's Store
23 results
Filter