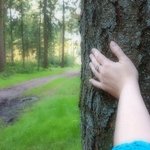 NatalieCatLee
I love nature and especially trees. I'm inspired by a great love of science fiction and space, an interest in eastern philosophy, meditation, psychedelic culture and the electronic music scene. I love making art and music, doing photography and digital photo editing. Follow me on Twitter, for posts about my artwork, design, homedecor tips, cool youtube videos, electronic music and all sorts of tech news, scifi, space and a bit of photography: https://twitter.com/NatalieCatLee NatalieCatLee joined Society6 on November 8, 2014
More
I love nature and especially trees. I'm inspired by a great love of science fiction and space, an interest in eastern philosophy, meditation, psychedelic culture and the electronic music scene. I love making art and music, doing photography and digital photo editing.
Follow me on Twitter, for posts about my artwork, design, homedecor tips, cool youtube videos, electronic music and all sorts of tech news, scifi, space and a bit of photography: https://twitter.com/NatalieCatLee
NatalieCatLee joined Society6 on November 8, 2014.